A word about...
Wild Mountain Golf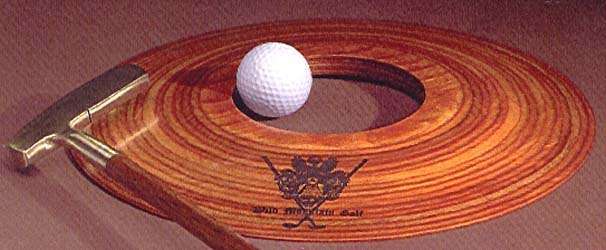 Wild Mountain Golf's mission is to preserve and continue the great tradition of hand crafted wood golf clubs and products. Blending the classic traditional aspects with the practical and artistic components to produce playable works of art.
We have been featured in newspapers, magazines, trade publications, catalogs, pro shops, resorts and golf schools. We handcraft custom exotic wood gift items with universal appeal that are fun to use and great gifts for all occasions.
Our Infinite Hole putter cups are used by PGA tour Pro's to practice and improve their scoring stats. PGA teaching professionals use the Infinite Hole for their students to practice proper putting techniques for both speed and line.
As sponsors for the Compaq World Putting Championship in Chicago, Wild Mountain Golf had 4 national winners who used our putters and practiced with the Infinite Hole. One contestant went on to place 93rd in the world ranking and another later came to work with us promoting our products to industry.
One senior advertising executive with a large golf magazine said "I use the Infinite Hole for guest putting tournaments in my living room. They place the Infinite Hole in different spots around the room and have putting contests for entertainment."
One lady called to thank us saying "When my husband received the Infinite Hole for Christmas, he literally had tears in his eyes saying this is the best gift you have ever given me." She purchased three more Infinite Holes for others!
Our putters and Infinite Holes have been given as tournament prizes, sales incentives, and gifts that will be treasured for a lifetime. Let us provide you with the finest playable and useful works of art that are available.